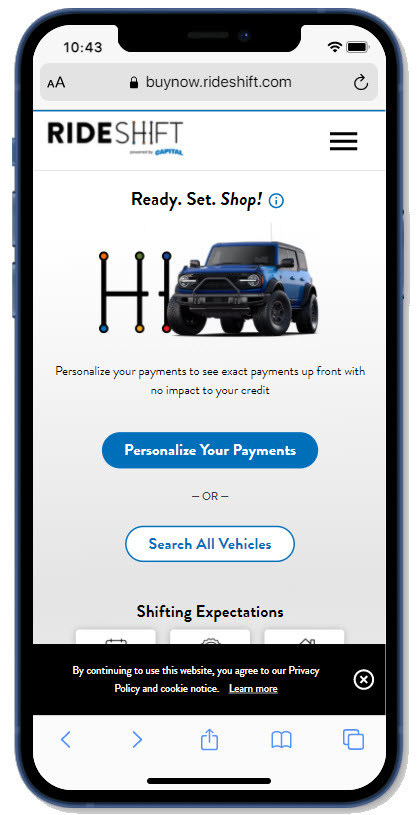 Capital Automotive Group announced today the launch of RiderShift. This new, powerful dimension in car shopping leverages AI and provides exceptional customer service before, during, and after the sale. RideShift, which has been serving the Carolinas since 1969, offers a fully automated pre-owned vehicle ecommerce site. It is available in 20 locations. It allows consumers to quickly find, finance, and purchase a vehicle. They can also schedule delivery or curbside pick up – whatever the car buyer needs.
We know each customer is different, so we want car shopping to be easier – less haggling, less hassle and less negotiation. RideShift simplifies the car purchase process and allows our dealership to reach new customers through fully online purchasing," stated Curtis Driver (director of operations at RideShift). "The automotive industry is susceptible to disruption, whether it be supply chain or new players. This underscores why innovation and resilience are so important for business longevity. RideShift allows Capital Automotive Group transform its business into an e-commerce platform and positions us to lead this market transition."
Luke Kuechly, a former Carolina Panther and local resident, said that Capital Automotive Group customers now have simple, flexible purchasing options with RideShift. These include Delivery or Curbside Pickup. RideShift's wide range of customer convenience options – well beyond those of new market participants – allow customers to shop when and where they like, while doing business with people they trust.
RideShift will debut via a regional consumer campaign featuring Kuechly. Kuechly is well-respected for his hard-working and straight-shooter image, which perfectly aligns with RideShift's customer value proposition. The partnership between Kuechly & RideShift will inform and excite customers through engaging ads about the key benefits.
With Precise Payments, you can shop, compare cars, and get automated financing.
Secure and safe environment for you to sign and pay all paperwork remotely.
AI-powered technology that provides transparent pricing for vehicle and complete deal structure levels
There are 20 North Carolina delivery centers available for pickup, delivery, and other service needs.
7-day return policy, 500-mile maximum, 3-month or 3-thousand-mile warranty. Free delivery within the Carolinas. Delivery available throughout the continental U.S.
RideShift makes use of Cox Automotive's state of the art Esntial Commerce(tm), technology to help consumers move through the purchasing process more quickly and seamlessly than any other online shopping experience. It unites a variety of Cox Automotive platforms in one sophisticated, centralized tool that both benefits the customer and the retailer. AI-powered shopping and patent-pending finance technology allow customers to view pre-qualified payments for every vehicle in stock and shop by make and model, price, monthly budget, and more.
RideShift's chief operating officer Lindsey Michael Longo stated, "RideShift supports our efforts to create a strong and sustainable automobile industry in the Carolinas that will be affordable, profitable, and equitable for all." It is all about the products, customer service, and community, as with every Capital Automotive Group initiative. RideShift is a revolutionary car buying experience that offers a unique way to shop for cars. We are proud to be the first to offer this optimized experience, dedicated customer service and a level of customer care that no other automotive group can match.